Genetic and crop heritage
Genetic and crop heritage
WE ARE A FAMILY WHO HAVE BEEN PASSIONATE ABOUT AGRICULTURE FOR OVER 80 YEARS AND WHO HAVE BROUGHT TO LIGHT THE ANCIENT TERRACED VINEYARDS OF THE ALTA LANGA
History
History
It was through the royal method of extinguishing the virgin candle that the Barberis family bought Cascina San Lorenzo. It was the 1930s, the beginning of a long history of winemakers.
Cascina San Lorenzo was built at the beginning of the 20th century by the will of a noble woman who, died prematurely and without heirs, bequeathed it to the former Cortemilia hospital, where she was being treated. In the 1930s, the structure was bought by Alberto Barberis, great grandfather of the current owners Stefano and Cristina, and since then, it became the headquarters of the company as well as the historic family home.
Initially dedicated to viticulture, bovine breeding and sericulture, the company recorded a first change of course in the 1950s, when Emilio and Emerito Barberis, sons of Alberto, decided to suspend sericulture and to dedicate themselves, in addition to breeding and viticulture, also to the winemaking sector, trading their wine in Piedmont, Liguria and Valle d'Aosta.
When, after the death of Emerito, Bruno succeeded as co-owner with his father Emilio, in the company there was a second turning point with the introduction of a new and fast-growing sector: the hazel cultivation. It was 1970. The production of wine had by now been confined only to the needs of the family and to the requests of the most historic customers.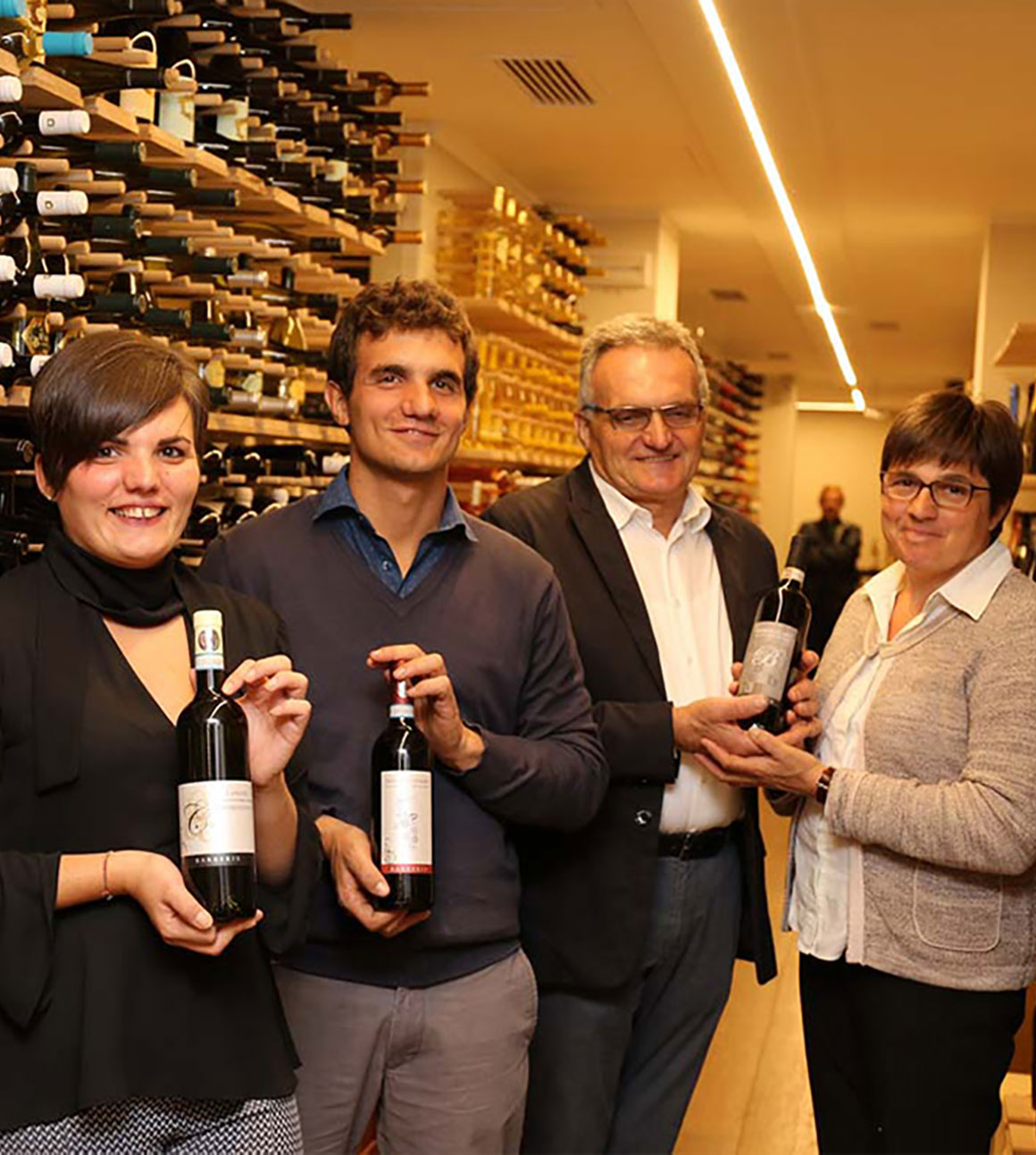 FOUR GENERATIONS AND ONE DEDICATION
About us
About us
Barberis Farm was born in a territory with a deep secular vocation, Alta Langa. It is in the heart of those vineyards that Stefano and Cristina Barberis choose to share the bond that the great-grandfather Alberto felt for this land.
In 2008, after graduating at the Oenological School of Alba, Stefano Barberis, son of Bruno, joins the company and proposes to suspend cattle breeding and to resume winemaking, an activity that will prove to be, since immediately, one of the flagships of the company itself.
After the renovation work that took place in 2012 and the first bottling of 2013, the daughter Cristina also joins the company. Starting from 2016, Stefano and Cristina, fourth generation of the Barberis family, became company owners. They are pursuing the family activity between innovation and tradition, faithful to the heritage of a territory with a deep secular vocation.
Barberis Farm covers 17 hectares of land of which 8 with hazel groves, 8 with vineyards and 1 with vine and hazelnut nursery and full control of the wine and hazelnut supply chain, from vine shoots to wine, from sucker to toasted hazelnut, from producer to consumer. The main goal is to maintain craftsmanship through authentic, sincere and one-of-a-kind products.
THE VALUABLE INSIGHTS BORN FORM THE SYMBIOSIS BETWEEN MAN AND NATURE HAVE CREATED A LASTING BOND, A PERSONAL INTERPRETATION OF THE CULTURAL AND CROP HERITAGE